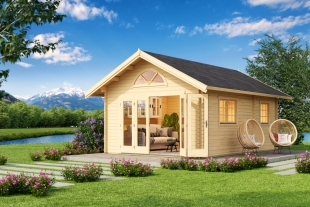 Garden houses of the "Premium" series
Here we have put together a selection of the most sought after garden houses with a wall thickness of 40 and 44 mm. The houses can very well be used as cottages, workshops and why not also as summer-time home-offices.
Usually, the products are available in stock. Transportation and installation all over Estonia, ask for an offer!
Having been unable to find a suitable model – let us know of your wish, it is very likely that of the 7000 houses in stock, we will find a suitable one for you!
Do not hesitate to ask for a "ready-made" offer!
Display 15 Products per page